Thinking about backyard chickens as your next pet? What you need to know before bringing them home…
Chickens are growing in popularity as the new backyard family pet.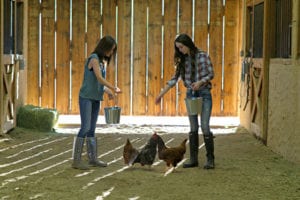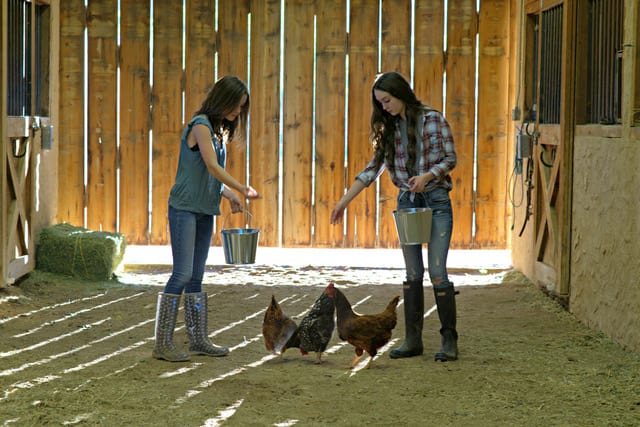 If you don't already know someone with backyard chickens, sooner or later you will. According to Brinkley and Kingsley (2016), "over 13 million Americans are flocking to the backyard poultry scene." In addition, U.S. cities are jumping on board and developing regulations to allow chickens as pets.
New homeowner Shannon Miller began planning for chickens before she moved in her Jacksonville home. "A little less than a quarter of our yard is going to be used for a garden and a chicken coop. I plan on having at least 6+ chickens. We go through 2-3 dozen eggs a week, so we need a lot!" Shannon is no stranger to backyard chickens; both her mother and sister have had these feathered pets.
Debbie Marshall and her girls are also backyard chicken enthusiasts. Not only do they enjoy the fresh eggs, but they also show their pets at the county fair. According to Debbie, chickens are friendly and love to be around people. Like dogs, chickens have different personalities and make great companions. There are many different breeds to choose from. Some are colorful and exotic, while others are better at laying eggs.
What you need to know before bringing chickens home.
First: Check the zoning ordinances for your area.
Start by calling your local government. Ask about any restrictions, ordinances, and zoning regulations. Some cities ban roosters due to crowing. Others have requirements on the size of the property. Not allowing these feathered pets to roam freely around the neighborhood is also a common requirement.
Second: Chickens need shelter and protection.
Before you bring your backyard feathered pets' home, consider where they are going to live. They need room to roam and a place that will keep them safe. Some backyard coops are small and fenced,  providing chickens with a specified area to roam and peck. Others are floorless and can be moved around the yard. It is important to remember that whichever type you choose, it needs to be predator safe. Predators come in all sizes and from all directions. That is why it is important to have your coop covered on the top, the bottom, and the sides.
Third: Chickens need attention.
Taking good care of your backyard feathered pets is crucial for their health. Like any other pet, chickens need to be fed regularly and provided with fresh, clean water. Good commercial feed, waterers, and feeders can be found at your local feed store or Tractor Supply. Likewise, the chicken coop needs to be clean and dry. It's important to understand ahead of time, a couple of hours need to be set aside for cleaning up the coop every week.
Finally:  While chickens can be relatively healthy, they can have issues.
With the decision to have chickens comes the need to learn how to address various ailments such as bumblefoot, fowl pox, thrush, pecking, scratches, and cuts.  Being prepared for those occasional mishaps and injuries is essential. Curicyn Original Formula is the perfect thing to have on hand. It will help promote healing and reduce inflammation on any cuts, scratches, or infections your backyard feathered pets may experience. To add to that, Curicyn's prices are exceptional. Pick up a bottle of  Curicyn Original Formula at your local Curicyn retailer or order online and get free shipping in the continental US. Check it out…
References
Accetta-scott, A. (n.d.). Naturally treating bumblefoot in chickens and ducks. Retrieved from: https://afarmgirlinthemaking.com/naturally-treating-bumblefoot/
Brinkley, C. & Kennedy, J. (2016, April 3). A chicken in every backyard: Urban poultry needs more regulation to protect human and animal health. Retrieved from: https://theconversation.com/a-chicken-in-every-backyard-urban-poultry-needs-more-regulation-to-protect-human-and-animal-health-93113
Possible ailments. (2019). Possible Ailments|Chicken Health. Retrieved from: https://www.omlet.us/guide/chickens/chicken_health/illness/